We want our kids to play on safe grounds and no ground is better than our own house. And to get the feel of playing outside by playing inside the home we need to have the best plaything. Nowadays remote control helicopters have become one of the best indoor playing instruments in the market. If you are searching for a good remote control indoor helicopter, then you are in the right place. We will try to help you to find the best indoor remote control helicopter in the market by explaining its features, advantages, and disadvantages.
A remote control helicopter that is durable, easy to control, reasonable size, lightweight, etc can be considered as a good remote control indoor helicopter. When all these qualities of an RC helicopter are ensured; one can use it smoothly and have fun while using it.
We have found out some of the best indoor remote control helicopters in the market. I hope this article will help you to find your desired product from the market. Descriptions of the products are mentioned below:
Comparison Of Best Indoor RC Helicopter
Image
Product Name
Featured
Price
SYMA S107H-E Aircraft RC Helicopter

Recharging time: 60 Minutes
Flight Time: 5-6 Minutes
Range Distance: 20m

Syma S107H Remote Control Helicopter

Range Distance: 65-foot
Flight Time: 5-6 Minutes
Charge time:60 minutes

Cheerwing U12S Mini RC Helicopter

Range Distance: 30m
Flight Time: 5-6 Minutes
Charge time: 80 minutes

VATOS Remote Control Helicopter

Range Distance:`12m
Flight Time: 7 Minutes
Charge time: 40 – 50mins

DEERC DE51 Remote Control Helicopter

Charging Time: 60 minutes
Flight Time:10 minute
Control Range: 50m
1.  SYMA

S107H-E Aircraft

Remote Control Helicopter Review

S107H-E Aircraft have the best combinations of unique and best features of RC helicopters. The altitude hold function holds the device up to a certain height which helps the kid to control the device. On the other hand, its body is made of alloy which is only 0.97 LB, and has an anti-collision body which ensures the durability of the device.
Its 3.5 channels and built-in gyro help the device to stay stable which is beneficial for the user to use. Adjoining its 2 selectable frequencies helps you to fly up to 2 helicopters at once. Judging the overall features, this is one of the suitable indoor helicopters you will find in the market.
Very stable
Easy to operate
Protective body
User-friendly
Elevation hold function
One key controlling system
Anti-collision body
3.5 channel accessible
2 selectable frequency
Multi-directional
Suitable for beginners
5 minutes of battery life
2. Syma S107H Remote Control Helicopter
This is one of the best products you will find in the market which will ensure the satisfaction, durability as well as safety of your kids. It's a mini-sized remote control helicopter of 8.6" L x 1.5" W x 4.1". Its blades are more flexible and the flybar which is positioned below the top blade helps the device for better pitch, yaw, and roll control.
Its easy maintenance and durability have made it special to kids. furthermore, it can fly at a wider 65-foot range for more indoor games fun. So, considering all the features of the device we can say that Syma S107H Remote Control Helicopter is a perfect indoor RC helicopter having all the features of the best RC helicopter.
Suitable for first-timers
Perfect for indoor purpose
Long-lasting
Simple controlling system
Free shipping
Steady flyer
Large flying range
Durable
Children-friendly
Controllable in 2 speeds
One button access
Difficult to land
No battery warning system
Also Read: Best Outdoor Remote Control Helicopter
3. Cheerwing U12S Mini RC Helicopter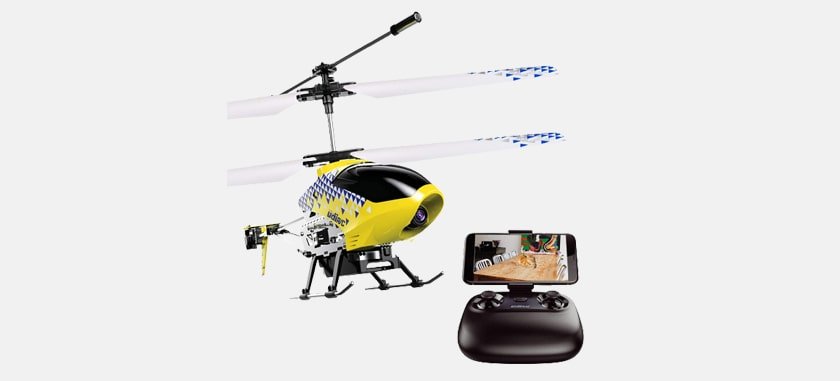 If you are searching for a remote control helicopter that will ensure camera facilities then you are in the right section. Cheerwing U12S Mini RC Helicopter is a remote control helicopter that will provide you with the facility of a camera.
This remote control helicopter can easily be connected to our device with the help of a wifi connection. It has an auto hovering system which helps us to use the device more swiftly. Overall this is a perfect device for both kids and adults.

Altitude maintaining system
Simple tools
Suitable alarm system
Easy controlling techniques
Wifi and App controlling benefits
Auto hovering system
Easy functions
Camera system (photo/video)
Low battery alarm
Out of range alarm
Emergency stop
Too light
Non-anti-collision
4. VATOS Remote Control Helicopter
The gray color look and advanced technology have made this remote control helicopter different from the others. It's a military series helicopter that will give you a mysterious vibe. Besides its light-weighted body and strong polymer have made this device carriable and durable.
It provides 3 selectable frequencies that will let you fly 3 helicopters. Its control range is about 12m and battery performance is much better than any other remote control helicopter. Its latest gyro technology is one of the advanced features of this device.
Multi-directional
Wide infrared control
Multi helicopter flying at once
Ideal for beginners
Perfect for the military lover
Light-weighted
Durable
Control over a large area
Easy usable
Stable
3 different frequencies
Multiple channels
5. DEERC DE51 Remote Control Helicopter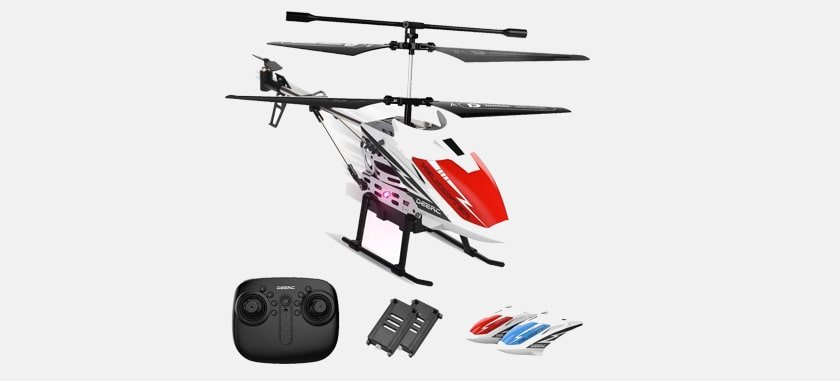 DEERC DE51 Remote Control Helicopter provides you with two different helicopter shells that are easy to access. This remote control helicopter is featured with the latest gyro technology and automatic pair. Besides its 2.4 GHz, the remote control system ensures stable signals and non-jamming functions. Its double module battery allows you to use the device for up to 20+ minutes.
The size and the shape of the technology are perfect for indoor activities. Its range is about 50 meters. Besides its durability is more as it's made of strong polymer. Overall it's a perfect device for beginners as its functions are easy.

Lighting system
Suitable for noobs
Strong metallic structure
Easy to assemble
Easy controllable
2 modular battery
Kid-safe
Long-lasting
One-key functions
Altitude hold mode
LED light controlling system
Cannot prevent collisions
Buyer's Guide.
If you search about remote control helicopters in any market, you will be able to see that there are a variety of helicopters. And indoor helicopters fall under one of those categories. It is not always possible to go out every time to play with your helicopter and you would have to spend your time at home.
For that, you need the best indoor remote control helicopter. But before making your choice, here are some factors you should keep in mind:
User-friendly:
The product manual and functions should be simple enough for you to understand and operate the model well. The easy controlling system will help you to enjoy and focus on your flight more; without any difficulties.
Long-lasting Battery:
You would never want any interruption while having a nice time with your remote control helicopter. Therefore, you need to make sure that the battery of your product lasts longer; a minimum of 7 minutes of flight.
Suitable Alarm System:
Having a proper alarming system can help you in many ways. The product needs to ensure that it gives you an alarm when your battery is dying or out of range. This will help you to monitor your helicopter more easily.
Wide Range:
Obviously, you wouldn't want your helicopter to be restricted in a small area. And play it in a closed case. Therefore, pick the model which can be played in a wide area. Also, ensure that it doesn't go out of your sight.
Materials:
It's always better to pick a model that is made of good materials. You need to make sure that your product is strong enough to prevent any kind of damage and makes your remote control helicopter durable.
Conclusion
Sometimes it has been noticed that we missed out on buying a better product due to the lack of having propers suggestions for best products. We are here to help you out with this problem. Above we have suggested some of the best remote control helicopters of different models and explained their functions. You just need to have a look at the list and find out your desired one. It will save you both time and money.
Indoor helicopters are required for various types of activities i.g it's used for security purposes, different mechanical works, etc. On the other hand, it's a very favorite thing for the kids.
They find it fun to fly and we never want to give a device to our kid that has a moderate feature. we always want the best. And this article hopefully will help you to find out the best indoor remote control helicopter.